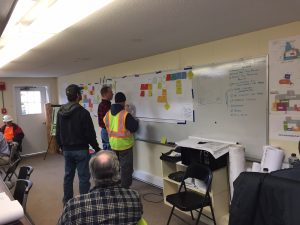 My four-year collection of Plus-Deltas from construction phase pull planning sessions include deltas with these five basic common themes.
1. Improve the Amount of Time Required for Planning
Variations usually seek to shorten the time required, but there was one delta recommending a longer planning session. This is especially challenging for new teams with several last planners that limited or no pull planning. It simply takes a less experienced team more time to work through the conversations necessary to develop an effective plan, especially for projects with a variety of different types of spaces.
Ideal planning sessions are about two hours long, and can be accomplished easily for small projects or project segments and the earlier phases of the work. Planning sessions for rough-in and finish phases can take much longer for complex project. Be careful, as after about five hours of planning, even with breaks, fatigue starts to set in.
Working on the following four deltas will improve the efficiency of your planning and shorten the amount of time required.
2. Better Advance Planning
It's important to think about workflow before the planning session, and communicate that thinking to the project last planners so they can include it in their advance planning. Ideas on workflow include the direction through a building trades will move, how material will be supplied to work areas, and preliminary ideas on batch size. Pre-planning meetings between the superintendent and last planners from trades with significant work can help define the workflow thinking.
Document the think on floor plans and building elevations. Send these documents to last planners in advance, and have them hanging on the walls in the planning space the day of the pull planning session. Post milestone dates so last planners understand the time objectives the team must meet.
Be prepared to adjust the workflow thinking during the planning session when the team learns something about the work that was unknown. Pre-plan just enough to provide a framework for the planning conversation without dictating the content of what planner need to say.
3. Full Team Participation
It is difficult to have a planning conversation if everyone that needs to be part of that conversation is not in the room. That means the last planner assigning work in the field for each trade involved in that phase. These planning sessions are an important part of the constructing of a building and not showing up is not an option. This puts pressure on the CM team and owner to makes sure trades are on board well before their work in the field begins.
Life happens and illness and personal obligations can keep people from being available on the day of the pull planning session. That is why every last planner needs to have a capable lieutenant able to step in when they are not available.
Superintendents absolutely must not only attend, but lead the planning sessions. If they are new to pull planning relying on a coach to lead a session is fine, so long as the superintendent fully engages in the planning while learning how to lead. If a superintendent does not attend because they are disinterested, and this happens on rare occasions, then they are not yet the right superintendent for a Lean project.
4. One Conversation
This is straightforward. There should be no sidebar conversations. Build in breaks so people can relax and talk in small group. During the planning everyone's attention is focused on the planing board. People placing tickets on the wall should be announcing their task, and their request for work to be completed before their task can start. The only other conversation at that time should be questions and observations regarding that task that is being placed on the wall.
5. Provide Enough Space for the Planning
Planning sessions can use a lot of wall space, and some construction site field offices simply don't afford the room. Many teams look for larger spaces near the site to accommodate the sessions. Room is needed for drawings, last planners to write tickets, and for several last planners to work at the board at the same time. Perhaps the best space I have been in for a planning session had a large floor-to-ceiling whiteboard the team used as a planning surface and was comfortably able to hold the more than two dozen people taking part in the planning.